【Wakamoto Pharmaceutical】 Wakamoto 1000 tablets
【Wakamoto Pharmaceutical】 Wakamoto 1000 tablets
1
5
5
1
Wakamoto Powerful 1000 Tablets, Tablets, Bottle, 5 yr(s), 1000 pc(s), Digestive enzyme, Lactic acid bacteria, Natural dried beer yeast, Weakness,Physical fatigue,Malnutrition,Heartache,Bowel control,Abdominal...
Now Only
US$13.48
Regular Price
US$14.83
10 point(s) ($0.09 discount) will be given to you if you share on SNS after login.



Wakamoto Powerful_Strong Wakamoto1000 Tablets
Dosage form: Tablets, Dispenser type: Bottle, Minimum age: 5 yr(s)
Strong Wakamoto 1000 Tablets" is a gastrointestinal drug that has three functions: digestion, pacing, and nutrition.
Aspergillus oryzae NK culture powderhelps digestion of weakened gastrointestinal tract and is effective for stomach upset and loss of appetite.
Lactic acid bacteria culture powder suppresses harmful bacteria in the intestines, adjusts the stomach, and is effective for tensioning the stomach. It also helps constipation by facilitating bowel movements and softening the stool.
Useful for nutritional tonics and nutritional support during physical fatigue
Abundant nutrients including vitamin B group contained in two types of cultured powders and yeast are useful for nutritional tonic and nutritional supplementation during physical fatigue.
Safe and secure with natural ingredients
The main ingredients are natural products, and can be taken by a wide range of ages, from children to the elderly. Contains 1000 tablets. Quasi-drug.

Wakamoto Powerful_Strong Wakamoto [Indications / Effects]
stomach upset, loss of appetite, indigestion, stomach and abdominal fullness due to indigestion, overeating, chest gripping, digestion promotion
Intestinal adjustment (to adjust bowel movement), loose stool, constipation, abdominal bloating
Nutrition, frailty, physical fatigue, post-illness, gastrointestinal disorders, nutritional disorders, febrile debilitating diseases, prenatal delivery
Thorough analysis Wakamoto Powerful_Strong Wakamoto Naturally derived ingredient Aspergillus oryzae NK culture powder producing digestive . enzymes -Developing more digestive digestive enzymes using rice and wheat germ-"Enzyme", the leading role in life.

For us and animals, nutrients are important for living, but there are things that are more important for sustaining life. That is "enzyme".

The "enzymes" produced in the human body can be broadly divided into "digestive enzymes" that digest
and decompose daily foods to make it easier to absorb nutrients, and deliver the absorbed nutrients to each cell in the body.
There are two "metabolic enzymes" related to the body's metabolism, such as helping to work effectively and excreting toxins together with sweat and urine.
No matter how well you eat, the digestion is done by the digestive enzymes secreted from the stomach and intestinal tissues. If digestive enzymes are deficient, digestion and degradation will be inadequate,
undigested substances will feed bad bacteria in the intestine,
bad bacteria such as E.coli will increase, and the balance with lactic acid bacteria of good bacteria will be lost and become the body It will be harmful.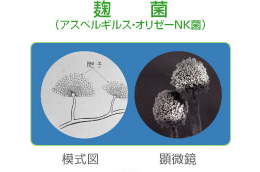 Wakamoto Powerful_Strong Wakamoto digestive enzyme developed from "germ bud"
Koji molds are a treasure trove of enzymes.
In 1936, Wakamoto Pharmaceutical discovered a strain
with excellent digestive enzyme titer balance from Aspergillus and named it "Aspergillus oryzae NK".
In order to make use of the properties of this koji mold,
we focused on the "rice and wheat germ" that is rich in nutrients.

This germ bud is "Aspergillus oryzae NK culture powder" and is a major feature of "Strong Wakamoto" and "Granular Wakamoto".
Germ cake grown with rice and wheat germ
Since "embryo" is in the seeds of plants and is a source of vitality for buds to grow,
it contains useful nutrients such as vitamin B1, vitamin B2, vitamin B6, amino acids and minerals.

The germ is also rich in dietary fiber, creating an environment where
good bacteria in the intestine such as lactic acid bacteria can work easily.
"Strong Wakamoto" and "Granular Wakamoto" are planted with Aspergillus or lactic acid bacteria in a medium with a unique germ composition,

Since the fermented solid culture has been formulated, it can be said that the product has "germ" as its mother.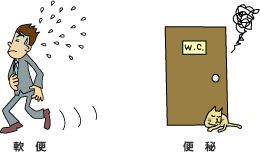 More Information

| | |
| --- | --- |
| Japanese Product Name | 強力わかもと1000錠 |
| Dosage form | Tablets |
| Dispenser type | Bottle |
| Minimum age | 5 yr(s) |
| Number of tablets per pack | 1000 pc(s) |
| Ingredients | Digestive enzyme, Lactic acid bacteria, Natural dried beer yeast |
| Health effects | Weakness,Physical fatigue,Malnutrition,Heartache,Bowel control,Abdominal bloating,Overeating,Anorexia,Constipation,Diarrhea,Indigestion,Upset stomach |
Visitors who viewed this product also viewed